The Thrifty Panther is a second-hand store designed for teens with a resourceful concept at its core. Its inventory primarily consists of secondhand or donated new clothing of all sizes and for all seasons and the store is intended to make students at Gowanda middle and high schools feel safe and confident. It also encourages students and donors to consider getting more use out of reusing assets in a thoughtful, responsible, and Earth-friendly manner.
Housed in a cheerful, bright space in a newly renovated classroom on the first floor of the high school and stylishly furnished solely with re-purposed surplus office furniture, the setting is comparable to a high-end boutique – but there's a catch. Everything is free. Winter coats, suits, blouses, T-shirts,accessories, hygiene products, school supplies, footwear, and more.
The environmentally conscious project is managed by high school social worker Robyn Dhand and teacher Holly Smith. The initiative has proved to be a true collaboration with some students who have helped with inventory, folding, display and supervising the store when it is open for a couple periods per school day. There are plans to involve other students and classrooms in managing the flow of donations and trying to accommodate requests for specific items or sizes.
"The idea of The Thrifty Panther came to life when my teen mental health elective approached Principal Moraites about ideas for a school service project," says Smith.
Previously housed in a space in the basement, the clothing closet – as it was formerly known upon its inception a few years ago – was a more under the radar resource. Its new, more prominent location is a perk of the completion of recent Capital Project work at the high school and the result is not only a fresh start for the Thrifty Panther, but a true reimagining and reframing of the concept.
Now that it is more visible, small groups of health students have been selecting inventory and experiencing what it takes to manage a store on occasional "Panther Connect" days where they focus on school service projects.
"Participating in school/community service projects is shown to help people increase self-esteem, gain more empathy, build long-term generosity, and even gain new skills necessary for the job market such as leadership, communication skills, dependability, time management, and decision making," says Smith.
Not only do students help sift through and organize the bags and piles of donated clothing, but they also go through every donation-laden shelf and rack to decide what must stay and what must go. Relying on their current fashion expertise and inimitable taste, the health students are instrumental in deciding which items are best suited for their fellow classmates while also weeding out items they don't believe will help them feel confident. The goal is to have the Thrifty Panther accessible for two periods per school day in the near future.
"My students are having fun, but also generating ideas with the potential to help students in need," says Smith.
Word about the Thrifty Panther spread quickly, with Buildings and Grounds Director Rich Smith and his crew and many others on campus helping facilitate the new space. Teachers also donated many articles of clothing.
Community supporters are also impressed with the effort. The Tangible Kingdom student outreach program of Gowanda Free Methodist Church, which is under the direction of retired teacher Mrs. Kyle Steever and Mayor David Smith (also an administrator at GCS) made a $1,000 donation to help purchase needed items that aren't in stock or immediately available for students in need.
In addition to being a confidence-building resource, The Thrifty Panther serves as a hands-on learning tool and helps students make authentic connections with each other, their community and what it takes to collaborate for a greater good. And they're doing it in style.
The store is a work in progress and has come a long way in its short life. Students "shopped" in the basement for surplus items to use to turn the new space into a bright and positive experience. They were resourceful, too, repurposing many dusty, long-unused items and giving them new life by putting them on display to present, store and hang items.
The Thrifty Panther's popularity has led to some complications – namely donation management. Currently, donations are being accepted on an as-needed basis to ensure the space doesn't get overcrowded. Those interested in making donations are encouraged to reach out to Ms. Dhand or Ms. Smith via email at msdhand@gcslearn.org or mshsmith@gcslearn.org. And over at Gowanda Elementary, students are also relying on its clothing closet for needed items for students in Pre-Kindergarten through fourth grade and parents/guardians and potential donors are encouraged to call (716) 532-3328.
"There is a bright future here for The Thrifty Panther." says Smith. "I can't wait to see it continue to grow into its full potential."
The Thrifty Panther is accepting donations of recently and gently used prom dresses, shoes and jewelry through May 6 in advance of the May 14 annual dance. Donations can be dropped off at the GHS office.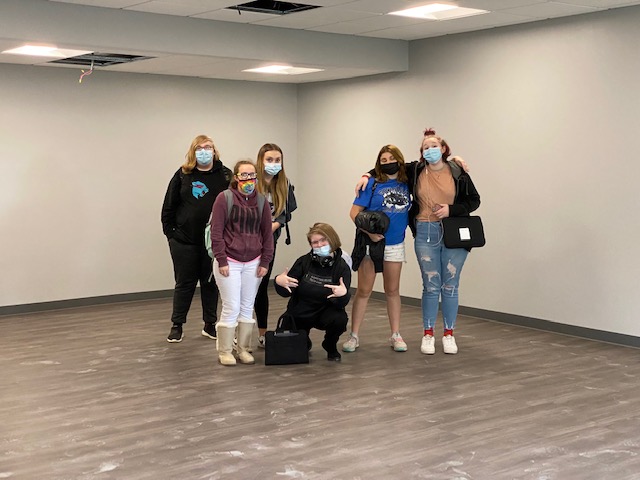 Student volunteers are key to much of the decision-making at The Thrifty Panther at Gowanda High.