Beginning with a procession onto Hillis Field comprising district administration, Board of Education members, dozens of members of the Class of 2022 and some of their educators, the 138th commencement of Gowanda High School got underway Friday (June 24, 2022) at Hillis Field.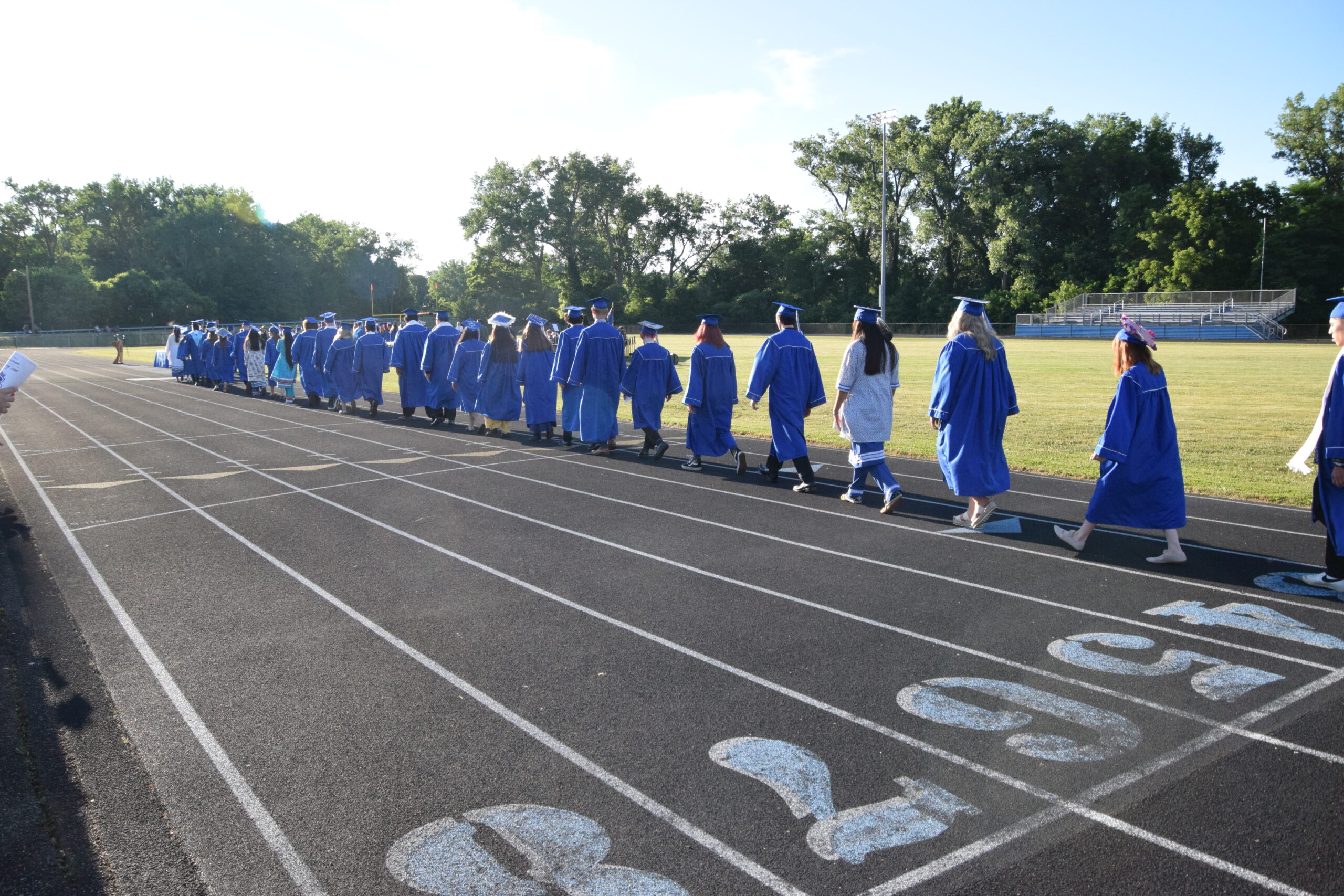 As hundreds of their loved ones and community members crowded the bleachers, graduates clad in blue caps and gowns sat in the center of the field on an especially sunny and warm evening.
Following the Pledge of Allegiance led by class president Dylen Harbison and a welcome from Principal Rebekah Moraites, congratulatory remarks were offered by Mr. John Waterman Jr., a BOE member and the chief of staff of the Seneca Nation of Indians. In addition, he is a member of the Class of 1992 at GHS.
Waterman reflected on his days as a Panther and said he sat right where they sat 30 years ago, getting ready to cross the stage and accept his diploma. He said it felt like a lifetime ago, but he can still remember it vividly.
"My years at Gowanda are forever part of who I am," he said to the graduates.  I hope that your years at Gowanda were as special and impactful for you."
Salutatorian Michele Jackson, who plans to study criminal justice at the State University of New York at Albany, and Valedictorian Emma Christopher, who plans to major in biomedical engineering at Rochester Institute of Technology, then addressed the audience.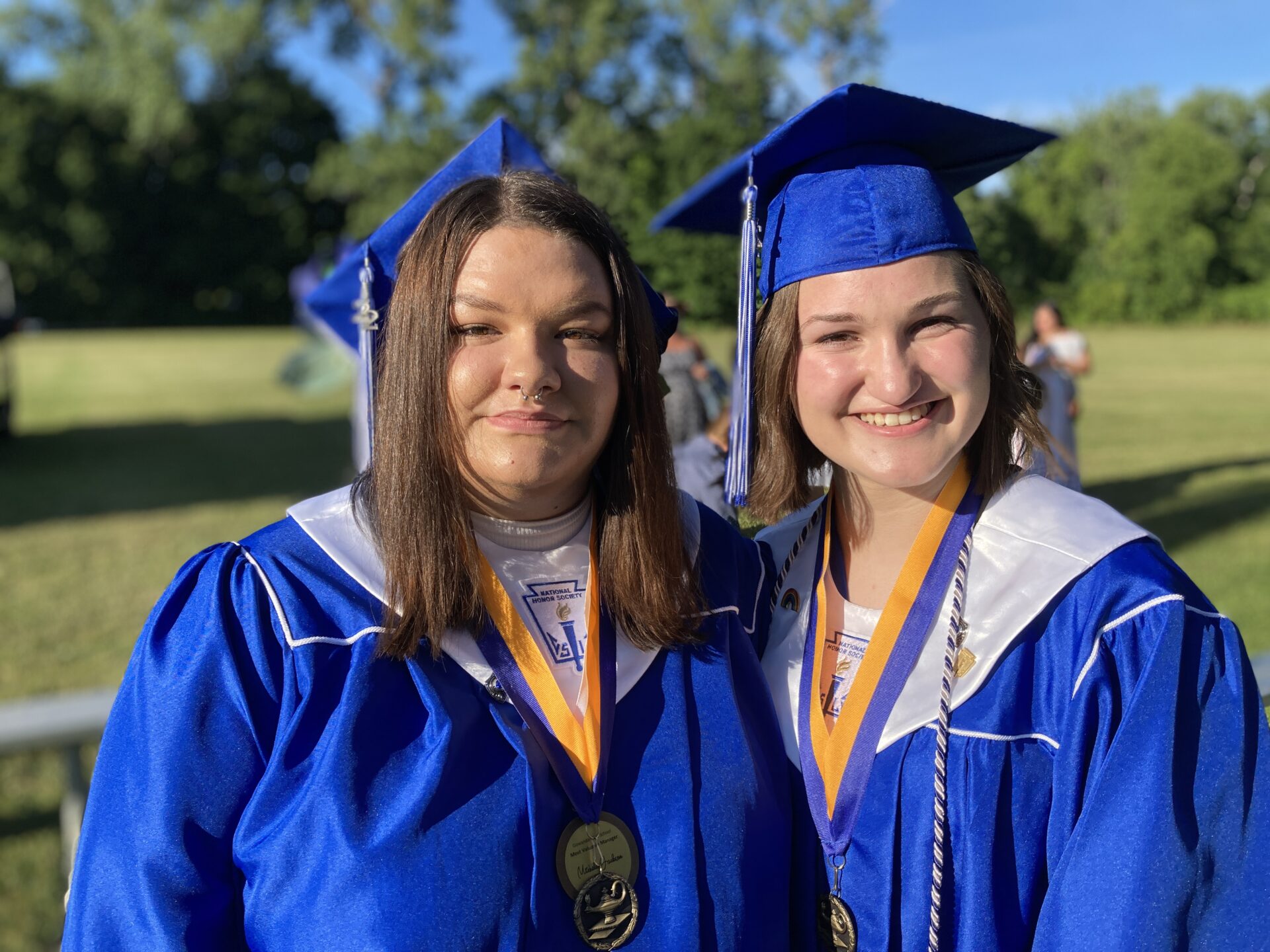 Graduation is especially meaningful for Jackson, who noted she is the first in her family in many years to reach this goal.
"The most valuable lesson I've learned on this journey is that you always have the ability to break the mold cast before you," said Jackson. "You are free to do whatever you deem fit with your life regardless of traditions, values, and ideas of what is or isn't right for you."
She likened her classmates to a puzzle.
"Although sometimes we have to jam the pieces together to create a homogenous picture, together we create Gowanda's Class of 2022. Separately we might not all make sense, but in the end we made it work," she said. "But now it's time to separate this 67-piece   and disperse us into the world. While we will all take one of the unlimited opportunities placed before us, we will always fit together here in Gowanda as the Class of 2022."
Christopher began her remarks by thanking her family, teachers and friends before admitting she listened to a lot of speeches for inspiration when writing her valedictorian remarks. But she didn't want to pretend she had it all figured out encouraged her peers to embrace what they don't know yet.
"Although we all have a variety of differences that separate us, we also have a mutual past that includes growing up here, in Gowanda," she said. "We were kids who grew up in a small town on an irritable creek that occasionally bursts at the seams. And we share many of the same memories as a result."
She realized the Class of 2022's connected past taught her to be excited about the future and curious about things she doesn't know.
"I've learned that even when things don't go the way I want, there's hope for it to work out better tomorrow," she said. "One day, I hope we can all provide the small-town feelings of safety, security and consistency to others – give the kind of support we had so someone else might use their wings to fly away."
Keynote speaker Jared White (Class of 2011) and the founder and principal of Il Mulino, was introduced by senor class representative Adam Golden. White, who referred to himself as a lifelong Panther, said he was honored to be there to cheer on the seniors as they prepare for the next phase of their lives.
"These last four years have likely been trying for many of you. And the fact that you are here today is a testament to your resilience and an indication that you have a great future to look forward to."
Class treasurer Rachel Colantino presented Mr. White with a gift at the end of his remarks.
Presentation of diplomas was led by BOE President Dana Szalay-Delaney, Principal Moraites and senior class advisors Emma Relosky and Melanie Schott. Musical accompaniment was provided by the high school band  and chamber choir under director Jacob Swanson and Robin Smith.
The ceremony concluded with the traditional turning of the tassels, led by senior class president Paige Szalay and secretary Cameron Nagel.
Afterward, the families and community enjoyed mingling at Hillis Field as the Class of 2022 took snapshots to cap off the celebration.