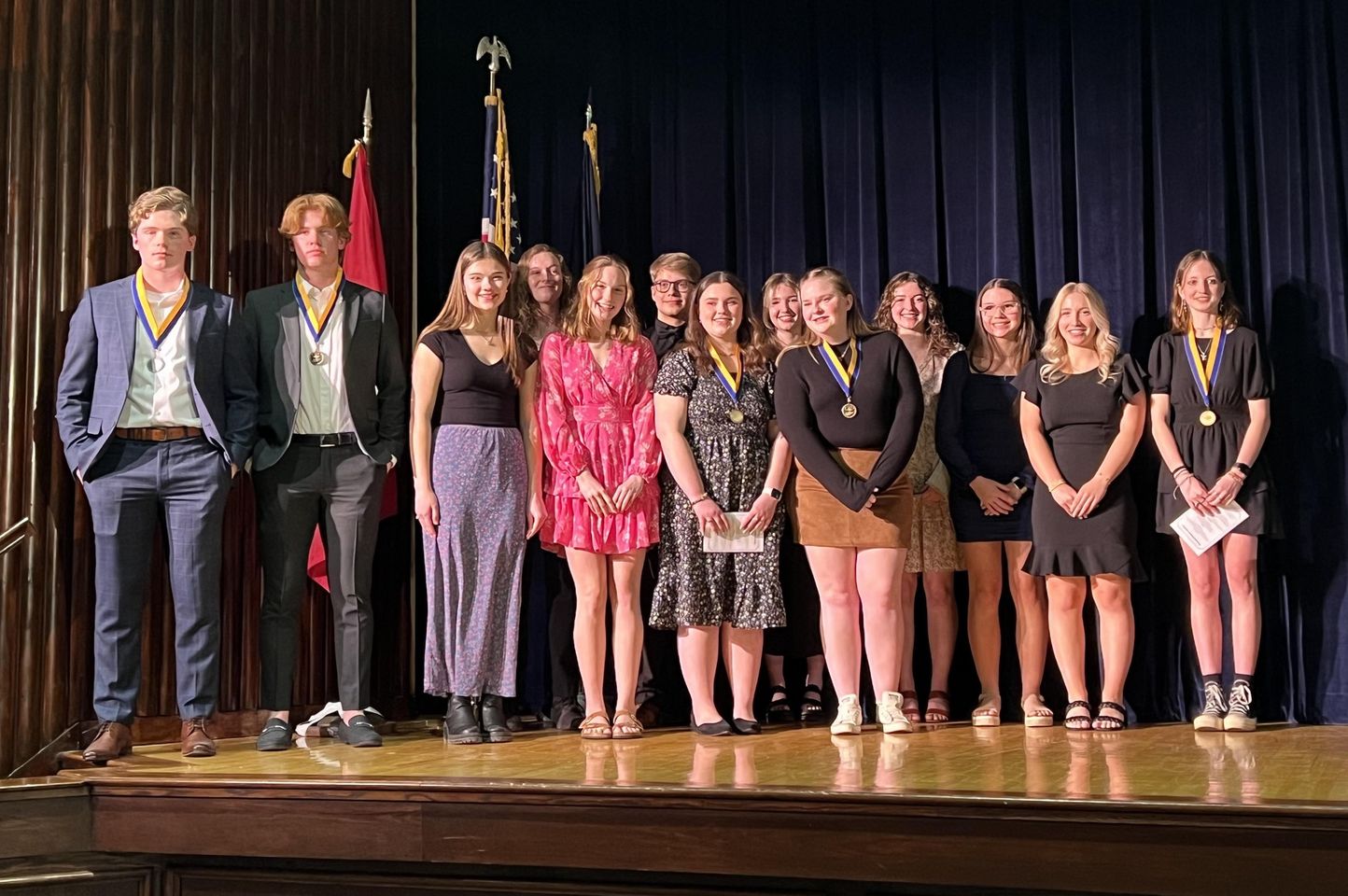 National Honor Society members from Gowanda High School are pictured during a recent induction ceremony in the auditorium. Pictured, left to right: Senior Cole Herman, senior John Ondus, junior Madilyn Pawlak, junior Autumn Pupo, senior Malarie Carroll, senior Madison Luder, junior Ella Luther, senior Kailyn Farner (back row), junior Christina Wilder, junior Aiden Ackley, junior Alivia Capozzi, junior Hailey Christopher, and junior Alaina Kaczmarczyk. 
Gowanda High School feted nine members of the junior class at its annual National Honor Society Induction ceremony held recently in the auditorium in front of loved ones and staff.
Congratulations to the Class of 2024's Aiden Ackley, Alivia Capozzi, Hailey Christopher, Aubrie Heron, Alaina Kaczmarczyk, Ella Luther, Madilyn Pawlak, Autumn Pupo and Christina Wilder on joining the ranks of the prestigious NHS during a ceremony the evening of Wednesday, March 22, 2023.
NHS Vice President and senior John Ondus led the call to order, then Assistant Principal Mr. David Smith welcomed the audience followed by NHS member and senior Madison Luder leading the Pledge of Allegiance.
An overview of the four values necessary for induction into the NHS followed with Luder discussing character while fellow NHS members Cole Herman, Malarie Carroll and Ondus discussed service, scholarship and leadership, respectively.
GHS teachers Mrs. Kathryn Haim and Mrs. Paula Ondus then presented graduation achievement awards to returning NHS members and seniors Carroll, Lani Farley, Kailyn Farner, Herman, Luder and Ondus.
During the candlelit ceremony, each inductee signed a commitment form, lit a candle and then recited the NHS pledge in unison, led by Herman, who also offered closing remarks. Attendees were then welcomed to join the NHS members for a celebratory dinner in the cafeteria.