A solemn vow to empower students to speak up when they learn about something with potentially life-threatening consequences is being realized in Gowanda.
In its ongoing commitment to supporting social-emotional learning and mental health for all its students, Gowanda Central School District is partnering with the Sandy Hook Promise and Erie 2-Chautauqua-Cattaraugus BOCES to launch its "Say Something" Anonymous Reporting System, which is also available via the ANONYMOUS REPORTING tab at the top right of this website.
"Nothing is more important than the safety of our students and staff," says Superintendent Dr. Robert B. Anderson.  "And 'Say Something' is one more way our district can help protect our Panthers and strengthen their mental health."
Say Something-ARS, possible via a grant from BOCES, teaches students in grades 6-12, as well as teachers and administrators, how to recognize at-risk behaviors, warning signals and threats on social media, in school, or in their community, of people who may be a threat to themselves or others. Gowanda students and staff received interactive training on the system in February 2023.
"Our students often know about problems their peers are facing and we are empowering them to recognize the danger signs," says Anderson. "We want to give them the tools to help each other with the assistance of trained and caring adults."
The system encourages reporting concerning behavior to trusted adults, using an anonymous reporting system via the district website or calling a 24/7 crisis hotline for schools or 911 for help. Nicole Hockley, co-founder, and CEO of Sandy Hook Promise, lost her first-grade son Dylan at Sandy Hook Elementary School in a mass shooting there in December 2012.
"We can fortify, hire armed security, spend millions of dollars on technology, but in the end, the most valuable tool any school district has are its students," says School Resource Officer Benjamin Shields. "This is something society often overlooks. Fostering relationships and building trust is key. And now, adding one more step to streamline that reporting 24/7 is a game-changer. People are often hesitant to call 911, but to simply report via this software puts us a step ahead. Walls will hide and cameras will record, but it's people that prevent these acts."
Say Something-ARS is a step toward decreasing violence and is designed to teach students life-long skills to help identify at-risk individuals in school and within the community.
It also urges the creation of Students Against Violence Everywhere (SAVE) Promise clubs. Gowanda's student organizations that align with SAVE include the Student Council at the middle school, which is spreading the message, and Students Against Destructive Decisions at the high school.
Teacher Shannon Styles is advisor of SADD and says its mission is to spread positivity throughout the district.
"Our hope is that if students are involved in positive community relationships it will deter them from making destructive decisions while also uplifting and similarly inspiring those around them," says Styles.
SADD members partnered with GES on Valentine's Day to work with students on crafts and they also SADD hosted Pink Out Day in October 2022 to honor and remember those affected by breast cancer, uniting our Panther family in a wave of pink. They also facilitated a Spirit Week in December 2022 featuring an inclusive holiday door-decorating contest involving all classrooms. Future SADD efforts include a food drive, Teacher Appreciation activity, and senior spotlight posters.
Say Something-ARS also provides educational tools, and in-school awareness materials including posters and stickers to help make the initiative more visible in the community.
Read the Say Something Anonymous Reporting System brochure here. 
You can make an anonymous report to the SS-ARS 24/7/365 Crisis Center via a mobile app, website, or telephone hotline1-844-572-9669. Learn more at www.sandyhookpromise.org.
Follow Sandy Hook Promise on Twitter @sandyhook, on Instagram and Facebook at @sandyhookpromise and follow SAVE promise club @nationalsave

FREQUENTLY ASKED QUESTIONS
What is the purpose of the Say Something Anonymous Reporting System (SS-ARS)?
The Say Something Anonymous Reporting System (SS-ARS) is intended to provide a safe and secure space via telephone hotline, mobile app, and website for students and concerned adults to provide information about threats or warning signs of potential violence or self-harm.
Is the person who submits information able to track the progress of the tip?
The person who submits the tip (aka "Tipster") cannot track the progress of a tip. The Tipster can only report the concern and then the Crisis Counselor, district/school team, and 911 dispatch officials (as needed) assess, intervene, and/or get help, if needed. The only communication made with the Tipster is to gather information.
What are the most frequent types of tips submitted via the SS-ARS?
The top five types of tips nationwide are:
Bullying/cyberbullying 4. Drug use
Cutting/self-harm 5. Depression/anxiety
Suicide
How does the SS-ARS ensure there are no false tips about a student?
The National Crisis Center has a thorough vetting process for confirming validity and a standard protocol for how to handle false tips. Of all tips received by the National Crisis Center, about 3% are deemed to be a prank/hoax tip.
What protocols are in place to protect a potentially at-risk student?
This program has been adopted by your school district and therefore falls under its existing policies, procedures and/or student handbook guidelines. We strongly recommend that you review these documents and meet with officials to learn more about student protections.
Are reports tied to a child's permanent school record?
Each school district owns all its tip data. That data is protected by the same state and federal laws as existing school records.
Can parents/guardians use the SS-ARS to report threats/concerns?
Yes. Parents or guardians can report any threats or concerns they may witness or hear from their child. Concerns can be reported through the Say Something app (free to download via the App Store and Google Play), the website at SaySomething.net, or by telephone at 1-844-5-SAYNOW (or 1-844-572-9669).
How does the SS-ARS ensure tracking and accountability of the school administration, law enforcement, and the National Crisis Center?
SS-ARS does not have governance over school districts nor local law enforcement. Tips and related information are passed to the district/school and 911 (as needed) to act upon at the local level. These entities address tips as they normally would with any potential issue, anonymous or not, that is shared with them. The National Crisis Center and its Crisis Counselors have well-defined protocols and procedures that are regularly reviewed and refined as needed to ensure the highest standards of care and accountability. 
Is Sandy Hook Promise a political organization?
Sandy Hook Promise is the nation's leading school safety and gun violence prevention organization comprised of:
The Sandy Hook Promise Foundation, a 501c3 nonprofit organization that develops and delivers the "Know the Signs" programs, research, and awareness campaigns.
The Sandy Hook Promise Action Fund, a 501c4 organization focused on writing and passing nonpartisan state and federal legislation that advances gun safety, youth mental health, and violence prevention education in schools.
Is the SS-ARS focused on gun control?
No. SS-ARS is a community-based school safety and youth violence prevention program, not an advocacy tool.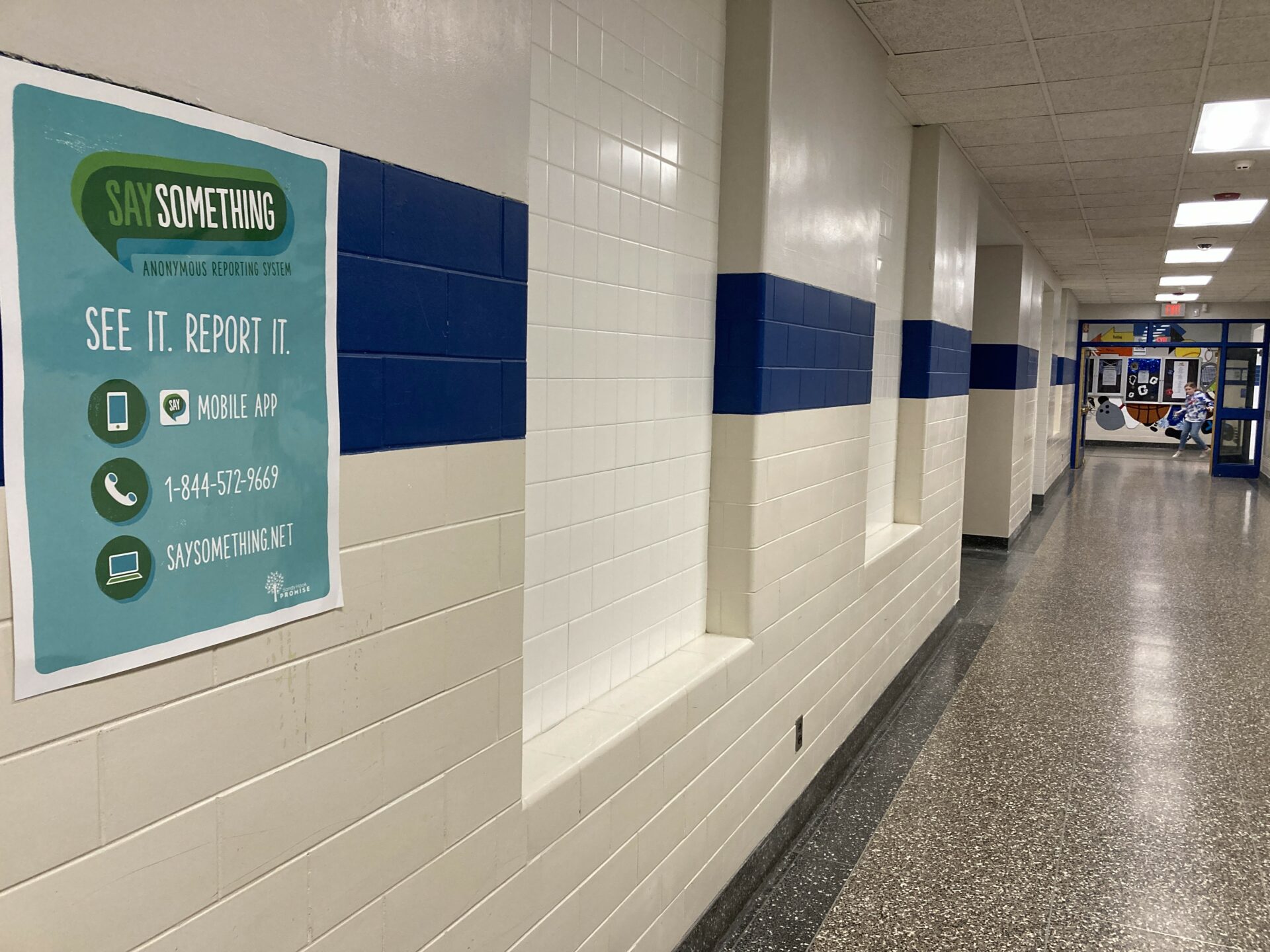 Say Something Anonymous Reporting System posters are hung prominently Gowanda middle and high schools.